Interview Jeffrey Deitch
September 14, 2010
I have always wanted an excuse to write about how curiously New Yorkers seem when they first arrive in Los Angeles.
A transplant myself, I especially love recent New York immigrants to Los Angeles. Their pallor is still a bit pasty and a bright sharpened halo hovers about them like static electricity. Eventually the golden light, the horizon lines and all those "superficial vapid people" start to wear them down and seep into the first layer. See them a couple months later, and they're not only a different color, well, they're different people.
And then there's Jeffrey Deitch. An energy field all by himself, he belongs to that rare breed of individuals who treats cities like their very own living room – casually rearranging furniture, redecorating, inviting people and entertaining as he pleases. Lest we forget, this is the man whose Deitch Projects produced over 250 projects in 15 years featuring contemporary artists and performers, the likes of which included everyone from Yoko Ono, Oleg Kulik, Shepard Fairey, Julian Schnabel, Francesco Clemente to Fischerspooner, Scissor Sisters and The Voluptous Horror of Karen Black. He created the first reality TV Show about art called Art Star. His annual one day Art Parade in on West Broadway in SoHo regularly attracted 1000+ participants. Only last year with Goldman Properties he organized The Wynwood Walls, where 15 artists created 11 permanent murals throughout Miami's Wynwood district. As the new director of MOCA, I am more curious to see how the landscape of Los Angeles and its art scene will be changed/altered/rearranged/electrified by him.
Kimberly Brooks: You have been in New York for the last thirty years. This was a dramatic move for you. Why Los Angeles? Why now?
Jeffrey Deitch: From 1940 to the present, the art world and particularly Los Angeles, has undergone a transformation not unlike the Italian Renaissance. First, there are the eight art schools and the artistic heritage of the city. There is a convergence of really great artists who continue to do great work, such as Ed Moses, Ed Ruscha, Paul McCarthy, Mike Kelley, Mark Bradford and Amanda Ross Ho. It is all happening so fast — there's a lot to sort out. Right now there's a new group of abstract artists looking at abstract expressionism in a new way. There is a lot to mine and understand. A lot of artists born from 1960 onward haven't yet gotten their due yet.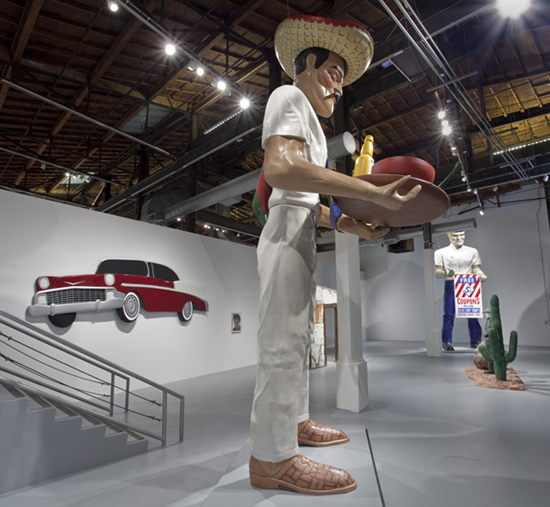 Installation: Hopper Exhibit at MOCA's Geffen Contemporary
KB: What inspired you to make Dennis Hopper's work your inaugural exhibition?
JD: Dennis was still alive when we worked on his show. I knew him very well and it was obvious to me that this was his time to see the body of his work in this setting. I knew I had to seize the opportunity for him to be a part of it. Selecting Julian Schnabel to curate, a long-time friend of Dennis' and mine, was also obvious.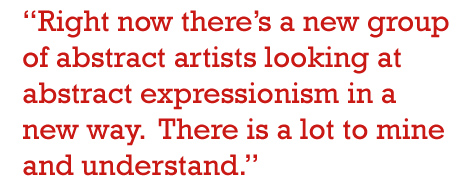 KB: You were one of the first to imagine a reality television show about the art world called "Art Star". A lot has been written about of Bravo's recent show "Work of Art". Did you watch the show what did you think of it?
JD: I did watch episodes of the show and liked it. Although we did it differently in that it was less like the typical reality show and the artists didn't have to live together. When we made Art Star, hundreds of artists lined up around the block to audition. I saw the population as brimming with creative people and artists who had something to share. This led to the creation of the Art Parade which we had from 2004 until 2007, when it got rained out.
KB: When you arrived, you made a splash not only with the Hopper Exhibit, but also an appearance on General Hospital with James Franco and his art project. I watched them before our interview. How did that project come about?
JD: I actually was talking with James Franco about doing an exhibit about his appearances on General Hospital well before MOCA made me the offer to be its director. In fact, we were going to relocate the entire set of General Hospital to Deitch Projects in New York as an installation. I spoke with ABC about it, but the transfer of the set and all the actors was going to be several hundred thousand of dollars, more than the cost of the production of the show. Then MOCA called, and everything fell into place to stage it in Los Angeles at the [Pacific Design Center] within that context.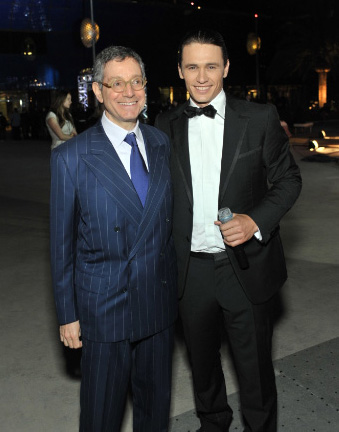 Jeffrey Deitch, James Franco on set at General Hospital
KB: What is it about television as a medium, combined with art, that intrigues you most.
JD: Overall, I think any opportunity to expose people to art on a mass level — to have some kid in Oklahoma say to his mother, "I want to be an artist"— is a good thing. Somewhere out there, there is the next major American artist who might not have even thought of it as an option before.

KB: What was your first reaction upon hearing that Eli Broad would be housing his Museum of works right across from MOCA?
JD: I think it's a great idea.
KB: Overall, how are you adjusting to life on the West Coast? Let me guess, you live in Hollywood and you're driving a convertible.
JD: I live in Los Feliz, right down the street from a handful of celebrities. I like driving. The transition has been easy. Much easier than it would be than the other way around