Rock Stars, Orphans and Rescue Missions: Preparing the Solo Show
April 13, 2008
As I write this, I'm sitting on a stool in the middle of my studio. My solo show is less than five weeks away. I have over fifteen canvases of all sizes strewn about, the finished ones hanging on the walls, the rest facing the walls. I've divided the paintings into three categories: Rock Stars, Rescue Missions and Orphans. There's nothing like a deadline to align all the atoms of the universe so I can see with crystal clarity.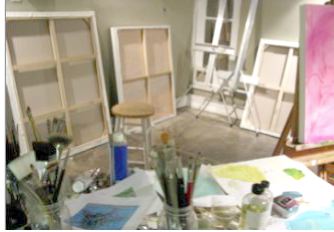 Kimberly Brooks Studio Five Weeks and Counting
Unlike a typical triage unit on a battle field or hospital where you attend to the worst first, I do the opposite. First I must recognize and admit when a painting is not working and kill it or let it die. This is never easy. So I focus on the Rock Stars— the ones that fly out of my mind (my heart) and onto the canvas with ease. Even if I hit turbulence I know I can still get out of it and it will make it on the gallery wall. I'm jamming when I'm painting them. I'm confident about what's happening, the palette, the composition, then surprises that always happen in painting are bonuses. They make me feel like a Rock Star. I focus on these first.
Next, the Rescue Missions. They were Rock Stars. What happened? That hand doesn't look quite right, the palette needs fixing, the detail not enough or too much. But there are Rescue Missions and then there are Rescue Missions. I have one Rescue Mission that I've been painting on and off of for five years. It was once the basis for an entire show. Someday, it still will be, but now I work on her in between. Leonardo Da Vinci carted the Mona Lisa around with him for twenty years, touching it up until his death (and to think it started as a commission!). Like Jean Le Feo's ongoing and never finished painting "The Rose," or Jacob Wrestling the angel, I don't know when she will be ready for the public, but I'm not giving up.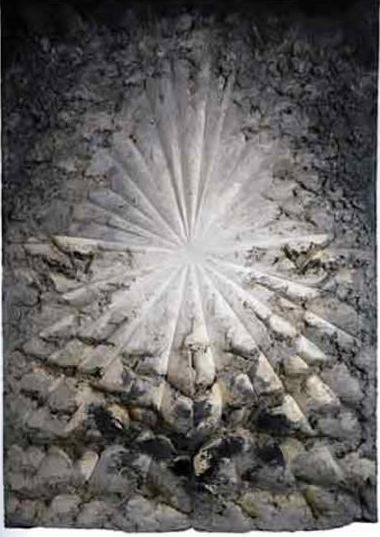 Jay De Feo's "The Rose"
How many times in my life have I spent too much time on a rescue mission? With the wrong relationship or a lousy job? Relationships, work and ideas— they are all things we have to nurture. I take note of what's going well. Life is short and I don't want to spend all my time fixing things.
There's a common misconception that artists are focused on process and it's all about "the journey." Certainly the journey's great (and challenging and circuitous and rewarding, etc.), but I want beginnings and endings. I want results. Nabokov wrote that there can be no art without facts and no science with out fancy. There's nothing more satisfying than fact of a finished painting and the dream that it will somehow embody an ultimate aesthetic self.
But truthfully, thinking that any painting might represent the whole vision or spirit of anything is as impossible as attempting to hug a tornado. Rather, each painting or idea represents a single moment and angle of that tornado in motion— it's early crosswinds, it's fury, the occasional flying cow or car— it's just just one piece in a life time of work.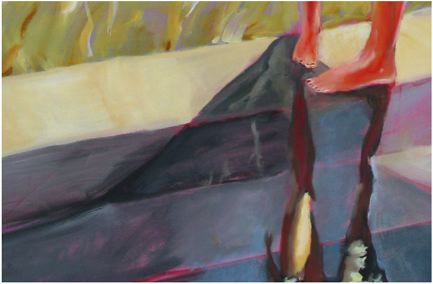 Detail from "Technicolor Summer" Oil on Linen
Yet the urge to strive for the ultimate "Hero" painting is irresistible. My artist friends and I joke about the "Magic Painting" that we're going to put on the postcard for a show. As if one painting can summarize an entire show and bring more people in. Which reminds me, I have a solo show in less than five weeks. Time to get back to work. Back to the studio. I have a jam session to attend.
—